Three divas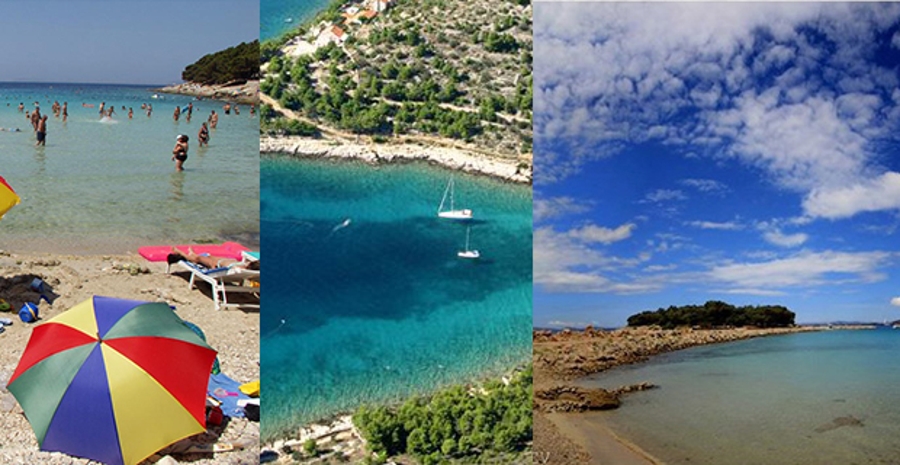 To the west of the island of Murter 2.6km northwest of the center there is a beach "Podvrške". The intact part of the island has crystal clear sea. It stretches through several small bays offering white sand, pebble and stone bottom and beach. The cove is connected by causeway to a nearby island with sunbathing rocks and a beautiful deep blue sea. This is a wild beach without interactive content to maximize the silence and beauty of Murter.
A ten-minute walk through the suburbs through a beautiful camp rock and stunning views will bring you to the most visited, most interactive and most popular beaches on the island of Murter and beyond.
If you are looking for a beach party, Slanica beach is your goal. The beautiful sandy beach with shallow water stretching hundreds of meters to the sea is perfect for fun and water games.
There are many interactive attractions on the beach such as water slides with pool, various restaurants, cafe bars. A perfect place to unite the tastes of the whole family!
If that is not what you are looking for, and your goal is the peace and sound of crickets but with a restaurant then you will decide on another ten-minute walk along the sea that will take you to the perfect blend of the slopes and suburbs.
Cozy ČIGAĐA beach offers a holiday with a beautiful open sea overlooking Kornati islands, peace, pine and silence, along a quiet Adriatic restaurant and café…